---
---
The Moving Meditation School of Tai Chi and Qigong was established and registered in 1994 by
Rosemary Palmer
and is located in the southern suburbs of Adelaide. Our primary focus is on improving the health and well-being of our members and, as Tai Chi is also a martial art, application of movements is shown when it helps in the understanding of the movement's function.
All teachers are professionally trained and enjoy sharing their Tai Chi skill and knowledge in a safe, effective and friendly environment.
Our Beginner's Course, Tai Chi Qigong, includes correct breathing techniques, the importance of posture, movement flow and mindfulness. The beginners' sequence of 18 techniques is easy to learn and suitable for most people. It consists of gentle stretching and relaxing movements, which are performed slowly and smoothly and guided by the breath. The art of visualisation is encouraged as it is an excellent tool for meditation as well as relaxation.
Qigong is the internal element within Tai Chi and is an essential component in improving health and flow of energy (qi).
Beginners' Classes commence with a free session at the commencement of the New Year and an obligation free session is offered for subsequent terms. They are held at the following venues, please download our schedule and brochure for more information or visit our Classes page.
About Rosemary Palmer
Rosemary has been playing Tai Chi for many years and taught for the Australian Academy of Tai Chi from 1986 to 1993 under the guidance of Grandmaster Gary Khor. Since 2003 she has been a Master Trainer with Dr. Paul Lam's Tai Chi for Health programmes. She is Director and Principal Teacher with the: Moving Meditation School of Tai Chi and Qigong and National Secretary of the Tai Chi Association of Australia.

As well as being a respected Tai Chi Consultant, Rosemary is an Accredited Coach with Kung Fu Wushu Australia Inc. and the Australian Sports Commission. She is also a Master Trainer for Dr. Lam's Tai Chi for Arthritis programme

Rosemary is heavily committed to promoting Tai Chi and its many health benefits and is pleased to be associated with the Department of Sport and Recreation, the Arthritis Foundation, Active Aging and Active Australia.


The Moving Meditation School is honoured to work in association with Arthritis SA, Active Ageing Australia, Dr. Lam's "Tai Chi for Health" programmes and the Department of Sport and Recreation SA. It is a corporate member of the Tai Chi Association of Australia.

The school's unique programme to improve health and well-being is taught at various venues around Adelaide's Southern Suburbs with the assistance of our professionally trained and dedicated teachers.

Rosemary's credentials:



B.A. Soc., Psych. Flinders University, SA.


Fitness Leader Core Course – Credit – ID Number 60987 1995 Accredited Coach, Kung Fu Wushu Australia Ltd (KWA)
National Fitness Council. Reg.No. 3625694

Member of Active Australia; Active Ageing; Tai Chi Association of Australia; Tai Chi for Health Institute; Wushu, Tai Chi & Qigong Australia Inc. And Arthritis SA.
National Secretary, Tai Chi Association of Australia Director/Principal: Moving Meditation School of Tai Chi and Qigong Master Trainer – Dr. Lam's Tai Chi for Arthritis programme.

TCAA National Competition Judge

Tai Chi Consultant to Schools and Corporations in SA.

Tai Chi and Qigong Presenter and Adviser for Active Ageing Australia
Creator of: Tai Chi Chair, Tai Chi for Schools and Tai Chi and Qigong for Dementia for Active Ageing Australia
Tai Chi Presenter and Adviser for Arthritis SA.

Tai Chi Presenter – Alzheimer's Association of SA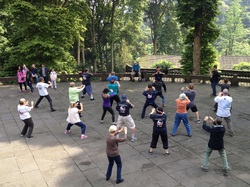 External Links


Life Nourishment. Life Nourishment is the web site of the Australian Academy of Tai Chi and Qigong. Rosemary trained with Grandmaster Khor of the Australian Academy for many years.
Tai Chi Association of Australia (Rosemary is national secretary)
---